Tobogganing in Zillertal
Head out tobogganing in Hintertux
Enjoy a fun tobogganing session during your winter holiday in Hintertux. The toboggan runs in Tuxertal provide you with unforgettable winter sports fun away from the piste, in the middle of the magical winter landscape in Hintertux.
Tobogganing in Hintertux
Speedy downhills, tight turns – fun & action are part and parcel of tobogganing in Hintertux. The three natural toboggan runs in Tuxertal guarantee boisterous tobogganing fun during the day and in the evening too. The start of the three toboggan runs are the managed Alpine inns: 'Bichelalm', 'Grieralm' and 'Höllensteinhütte'. These Alpine inns are accessible on foot, or via the 'Rodeltaxi' service. Then after your refreshment stop in one of the inns, the descent can begin. Sturdy footwear, weatherproof clothing, gloves, a helmet and a head-torch are must-have items of equipment for evening descents. That way nothing stands in the way of you enjoying a fun tobogganing session.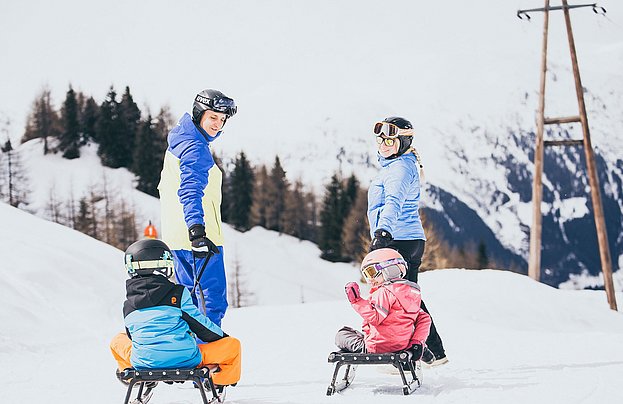 TOBOGGAN RUNS IN ZILLERTAL
Tobogganing on the Bichlalm
From Hintertux it is a walk of some 50 minutes up to the Bichlalm. If you are a winter sports fan with a more leisurely approach, there is the 'Rodeltaxi' service which takes you to your destination in comfort. You then get to start your descent on the 3km toboggan run, which is also floodlit for night-time tobogganing in Hintertux.
Toboggan run at Höllsteinhütte
From Tux-Lanersbach the ascent takes around 1 hour 15 mins. Here too there is the option to avail of the 'Rodeltaxi' service. Once you get to the top, you then speed downhill on a route which is 3.5 km in length. The toboggan run is floodlit in the evening too and toboggan hire is available in situ. Please be aware that this toboggan run has specific times for tobogganing sessions!
From Juns, the route proceeds through the woodland up to Grieralm, taking around 1 hour 30 mins. At the bottom there is then a 5 km toboggan run back into the valley. The floodlit toboggan run is also accessible by 'Rodeltaxi' – toboggan hire is available in situ. Please note the tobogganing times for winter sports aficionados!