Mountain biking/e-biking
Your Zillertal cycling adventure starts here
On cycling trails spanning over 120 km, cycling enthusiasts will certainly find what they are looking for in the Tux valley! Numerous well-maintained trails through this enchanting mountain scenery are suitable for families, leisure cyclists, and mountain bikers alike.
E-BIKING & BIKE + HIKE IN THE ZILLERTAL
Admittedly, mountain biking always entails a certain athletic challenge. If you would rather take it easy, try e-biking and see how far you can go with the assistance of a small electric motor! With an e-bike, you can enjoy the pleasures of a mountain bike tour in the Zillertal to the full. The "Bike & Hike" concept is currently gaining in popularity. On the long forestry road, the e-bike comes into its own - you leave your bike at the mountain pasture and hike up to the summit. If you run out of battery, there are lots of e-bike charging stations dotted around the valley.
MOUNTAIN BIKING IN THE ZILLERTAL
The burning calf muscles, the pride that grows with every meter, the incredible rush in endorphins when your reach your goal: Conquering a mountain peak with muscle power alone comes with its very own thrill. But which trail is the right one? See here for a selection of possible routes.

Rent-a-bike
Before you start your tour, you need a decent bicycle, of course. At sports outfitters Nenner right next door, you can rent mountain bikes, e-bikes (from a height of 130 cm) and children's bikes against a rental fee. Helmets and child seats are also available. Your mountain bike holiday in the Zillertal can begin!
Sport Nenner:
Bike rental just 100 m from the hotel
Reservation at a special rate is only possible through the hotel
All guests receive a € 10.00 voucher per rental bike for shopping at Sport Nenner (valid from a total purchase value from € 100.00; only one voucher redeemable per purchase)

PRICES FOR SUMMER 2021:
Mountain bike rental € 20.00 per day (helmet not included)
E-bike rental € 32.00 per day (helmet not included)
E-Fully € 40.00 per day (helmet not included)
Helmet from the age of 14: € 5.00 per day
Children's e-bike (up to the age of 14) € 25.00 per day incl. helmet, from a height of 130 cm
Children's mountain bike (up to the age of 14) € 20.00 per day incl. helmet, from a height of 145 cm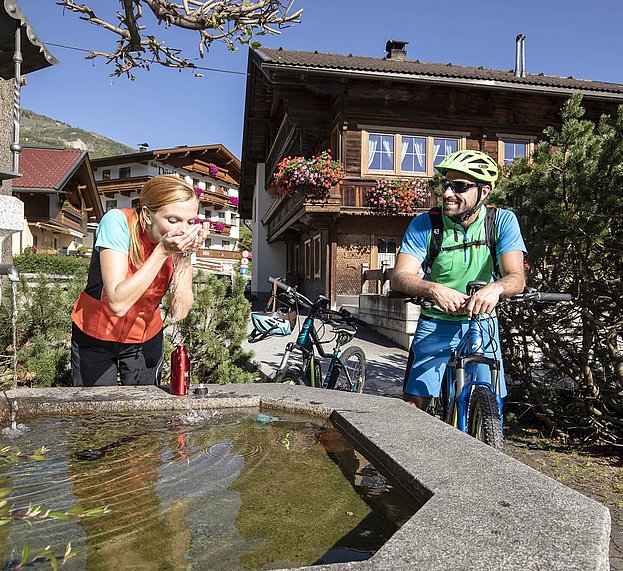 Start looking forward to your summer holiday in the Zillertal! Numerous activities such as hiking, summer skiing, climbing and exciting daytrip destinations guarantee variety and fun in a beautiful natural setting.