Sustainability at the Alpenhof
PARTNER ENTERPRISE OF THE ZILLERTALER ALPEN NATURE PARK
We are lucky to be at home in the magnificent Zillertal Alps. This natural paradise has been a nature preserve since 1991 and a high Alpine nature park since 2001, with a total area of 422km². As a member and partner enterprise of the Zillertaler Alpen Nature Park, our Hotel Alpenhof stands out for its deep love of nature, the competent information it provides on the wider region, and the sustainable running of its day-to-day operations.
SOLAR CELLS – RENEWABLE ENERGY AT THE ALPENHOF
When the Alpenhof was rebuilt in 2006, we installed a 200 m2 solar panel on the roof. This enables us to produce approximately 60,000 kWh of environmentally friendly energy, primarily for our underfloor heating, swimming pool and radiators. These low-temperature devices are also fed with energy recovered from the cooling units and the extracted air from our ventilation system. In general, we obtain 100% of the electricity for our hotel from renewable energy. De manière générale, l'électricité que nous utilisons pour notre hôtel provient à 100% d'énergies renouvelables.

"Sustainability has increasingly become the subject of public debates in recent years. I am a father of three and therefore more than happy with this development. Corporate Social Responsibility, environmental awareness... there are lots of catchphrases associated with this topic. For my great-grandmother Luise Dengg, treating nature responsibly, shopping locally for food and standing up for the community were all par for the course. You could say that we are trying to get back to where we once were! However, it is also important to keep pace with the times. From sustainable energy production to the environmentally friendly furnishings of our rooms and electric mobility, we do our best to ensure that we can enjoy the beauty of the Nature Park that surrounds us for many years to come, and to share this privilege with our guests."
SUSTAINABLE HEATING – PELLET HEATING AT THE ALPENHOF
When we refurbished our facilities in 2006, we also added a pellet heating system with a capacity of 450kW – the environmentally friendly alternative to standard heating systems. While an oil-based heating system produces around 303g CO2 per kilowatt hour, a pellet heating system produces just 42g.
Waste not, want not: waste separation at the Alpenhof
Waste separation and responsible recycling come naturally to us. This is reflected in every single area of our hotel. A straightforward, essential contribution towards protecting our natural environment.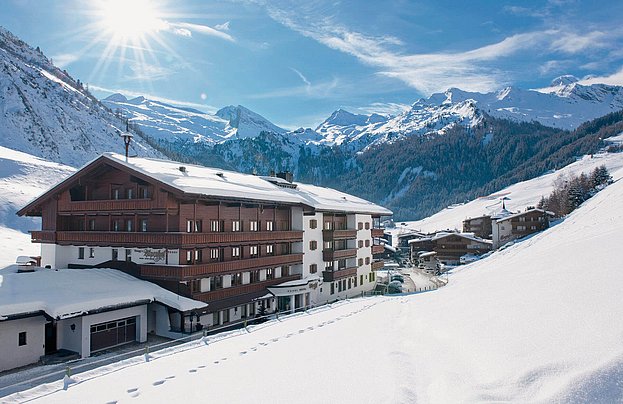 Green energy for sustainable mobility
It is important to us to be up to speed when it comes to sustainability - quite literally, as we also support the latest technology when it comes to e-mobility in order to protect our environment and its resources. We now have a charging point available for our guests directly at the hotel. This means that you are not the only one to recharge your batteries at the Alpenhof - your vehicle will, too! Our e-charging point comes with an type 2 socket. We ask you to bring your own charging cable. Furthermore, you can use environmentally friendly mobility in the Tuxertal. From January 2023, the Tuxer Sportbus will bring guests in the valley comfortably and safely to their destination with four electric buses.

Regional cooking
The lion's share of the ingredients used in the creative dishes dreamt up by our head chef Maximilian Stock comes from our own farm or the wider region. The shorter the transport routes, the better - not just in terms of environmental footprint, but also with regard to quality and flavour. At the Alpenhof, our commitment to regionalism holds firm. We want to promote sustainability in our region, protect and maintain our wonderful environment, and introduce our guests to the fantastic flavours of Tyrol!