Winter holidays in the Zillertal valley
The winter sports paradise in Tyrol
At altitudes from 1,250 to 3,250 metres, a veritable winter sports paradise awaits our guests. Skiing, tobogganing, hiking, cross-country skiing and much more - that's a winter holiday in Hintertux.
"Winter in Hintertux is something truly special. The glistening, snow-covered peaks, the mountain sun that tickles your skin... Nothing is better for the soul than a walk through unspoilt nature, with the snow crunching under your feet with every step. Our dog Kira agrees, by the way!"
Skiing in the Zillertal valley is skiing at its best, on 365 days a year
The Hintertux Glacier ski resort offers skiers and snowboarders unlimited fun on the slopes all year round, with 100% guaranteed snow. 60 kilometres of perfectly groomed pistes of all levels of difficulty ensure that both beginners and experienced skiers are spoilt for choice. Numerous mountain huts and restaurants invite you to take a break and replenish your batteries. In the Zillertal 3000 ski and glacier world, guests may access 199 kilometres of pistes and 66 lifts with a single ski pass, thanks to the fusion of five ski resorts, the Hintertux Glacier being one of them. Several ski schools are at hand to get you ready for the slopes in no time.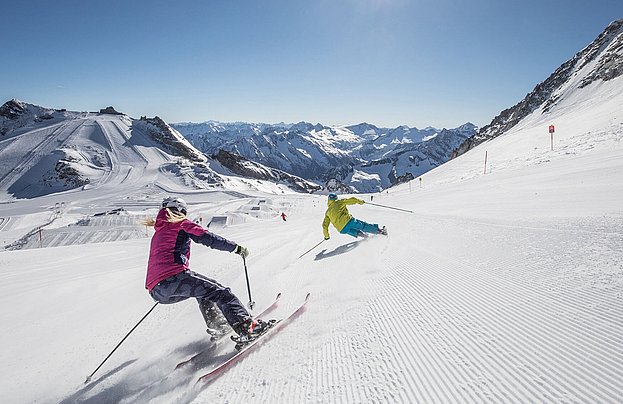 Cross-country skiing in the Zillertal valley
Cross-country skiers will find 14 km of classic trails and 14 km of skating trails in the Tuxertal between Vorderlanersbach and Madseit - perfect for gliding through the idyllic, snow-covered landscape at a leisurely or ambitious pace. Guests may use the excellently prepared trails free of charge during their winter holiday. Several ski schools in the surrounding area offer cross-country skiing instruction, and many sports outfitters have the equipment you need available for sale or rent.

Snowshoe hiking in the Zillertal valley
Around Hintertux in the Zillertal valley, guests may access a paradise for winter and snowshoe hiking: 68 km cleared and groomed winter hiking trails are perfect for a refreshing walk in this picturesque Alpine setting. Numerous mountain huts and restaurants invite you to take a break along the way. Even if you're not a skier, you can still use the cable cars that take you up to the mountain stations from where to enjoy glorious views. Snowshoes are available for rent at Sport Nenner in Hintertux.

Tobogganing in the Zillertal valley
On three floodlit, natural tobogganing runs that span 12 km in total, there is plenty of fun to be had during your winter holiday in the Zillertal. The 3 km trail from Bichlalm pasture down to the valley ends right outside our front door. Speed and adrenaline are guaranteed, during the day or in the hours of darkness, for families, couples, and friends whizzing down the track on a toboggan. After hiking up the hill, replenish your energy levels and warm up for the ride down in one of several rustic huts.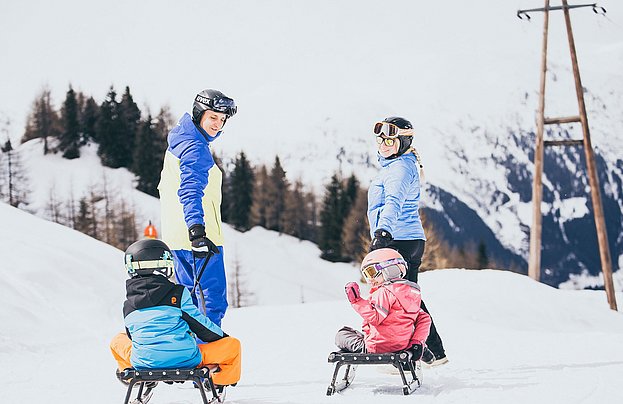 Ice-skating in the Zillertal
Curling at the skating rinks of Lanersbach and Finkenberg have become holiday highlights in the Zillertal. Enjoy a fun evening with friends, acquaintances or the whole family! Alternatively, take a turn on the ice yourself or watch your loved ones perfect their pirouettes from the sides.

We are happy to share additional information on winter sports options here in Hintertux - come and see us at reception or call +43 5287 85 50.